On 12 May 2017 the joint contest organised by the educational TV channel English Club TV and Prime Tel (Cyprus) came to an end. The organisers asked the followers to LIKE, SHARE and COMMENT the post published on the official page of Prime Tel on Facebook. As a result, more than 1536 Shared, 670 Commented, 816 Liked the publication during the 2 weeks to win the main prize, iPad mini 2 Retina.
Andreas Sergidis from Limassol who won the main prize said that he had been very excited to take part and win the iPad and mentioned that he enjoyed watching movies with subtitles on English Club TV.
Andrew Semchenko, the CEO of English Club TV, says: 'I'm so inspired by the results of the sweepstakes with Prime Tel. It was the first contest in this format. And I'm incredibly proud that English Club TV has become such a popular channel in Cyprus. We're going to conduct contest with our partners all over the world based on Prime Tel's experience.'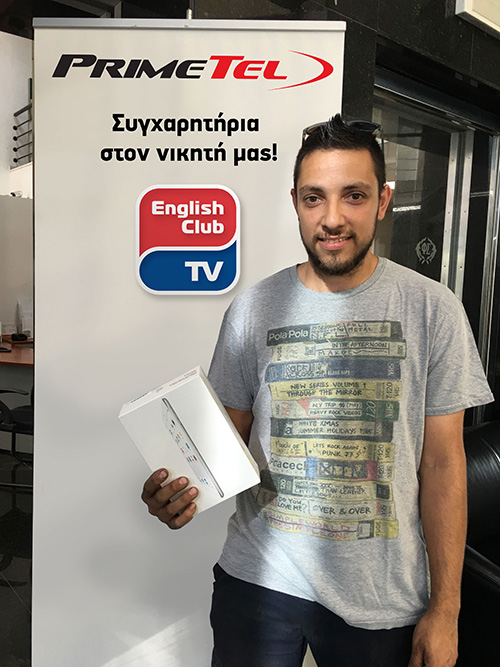 ---
PrimeTel PLC is a Cyprus telecommunications company which was founded in 2003. PrimeTel is one of the few telecommunications operators in the region that can provide a full spectrum of connectivity and services. As the first MVNO operator in Cyprus, PrimeTel has recently launched Mobile telephony services, becoming the first telecommunications company in Cyprus able to offer Quad–Play services (Fixed Telephony- Internet-TV- Mobile Telephony). For more information visit http://primetel.com.cy
The English Club TV Group is a group of production, edutainment and distribution companies that operates worldwide in the field of English language education. The English Club TV Group is a family of brands such as the educational channels English Club TV, English Club TV HD and the online service English Club TV ON-THE-GO. For more information visit www.english-club.tv
English Club TV is a unique educational channel for those who want to learn and improve their English. The English Club TV Channel is available via Astra4A, Measat3A and Hispasat 30W-5 satellites which cover the European, Asian, African, North and South America continents. Every day more than 30 000 000 subscribers of more than 400 operators watch English Club TV in 99 countries around the world. English Club TV content is available through OTT, VOD, DTH, IPTV and mobile platforms.